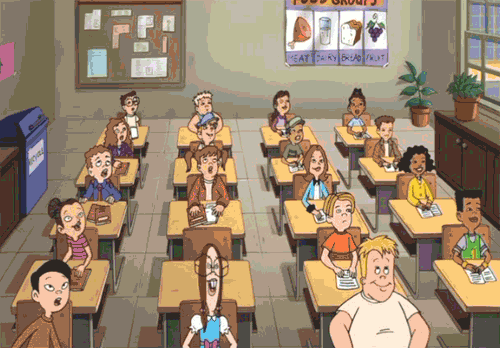 I'm Back! The school semester is over and winter break has begun. I get a little over a month off to enjoy time with my family and earn myself some money before beginning the spring semester. This also means that I can create some new and sporadic content here. Write a few reviews that I didn't get to before the fall semester started; like Polar Bear's Cafe and Fruits Basket.
Before we get into that though, lets catch up! I just spent the past four to five months filling my brain with facts, which I then spit back onto paper. I did pretty good! Scored myself all A's and B's, and I wasn't to sure I'd pass one of my classes towards the end. I'm still working towards becoming an accountant and that one class was auditing. I think I'll pass on being an auditor, but it was an interesting class.
Being away from my family and my cat was tough, but my brother goes to the same school. I saw him almost every day. We'd eat lunch together with a couple other friends. For the most part I enjoyed being away from home. Not being nagged by my dad and not having to work eight hour days standing in front of a cash register.
For the first time I got to see what it was like to have roommates. We didn't really become friends, partly because my work schedule was from 10 to midnight, when most roommates at my school get to know each other. We have a pretty strict curfew and at 10:45 every night we have what is called prayer group where we all get together and share prayer requests. I never went to a single one.
I was super excited at the beginning of the semester, because all three of them are into anime. The Bride watched my Hero Academia Season Three at the beginning of the semester. Unfortunately, they regarded my tastes in anime to be lacking (I was kind of crushed) since I didn't ban myself from watching Dubs, thought Sword Art Online was good, and found that most of my favorite anime were unknown to them.
I did watch some anime over the semester. The ones that I could watch using Clean You tube, which is a search engine and platform that my school doesn't block. Probably because they don't know about it. I finished watching City Hunter and got halfway through a series called Maison Ikkoku.
When I wasn't studying, working or hanging out with friends though, I spent a huge chunk of my time listening to a podcast called The Adventure Zone. A D&D comedy podcast that turned into some of the best storytelling I've heard in the audio medium in years. I just wanted to mention it, because it is seriously amazing. I'm still finishing the first campaign, but I'm almost done with it.
That about catches us up with everything I feel like sharing at the moment.
As for Exploring the World of Anime and Manga, there will be no Saturday Morning Movie or Battle of The OP posts until the end of January. I really enjoy doing Saturday Morning Movies, and will probably continue with that for as long as I can. As for Battle of the OP. I find it fun, but don't think it was very well received, I'll see it through, because I don't want to stop what I started, but once it's over that will be it. It works well for what I used it for. As filler for when I'm not actively blogging. After having spent a semester on campus and seeing how my time is spaced out, I think that if I wanted to I could manage to write new content over that time, but for now I think I'll keep it as I set it up.
Right now is my chance to share everything that has been marinating in my brain over the past few months, which in all honesty doesn't feel like very much. I'm looking forward to writing right now though and I hope its a productive Christmas Season. It's good to be back!
Until Next Time, Always Make Your Heart Rainbow!